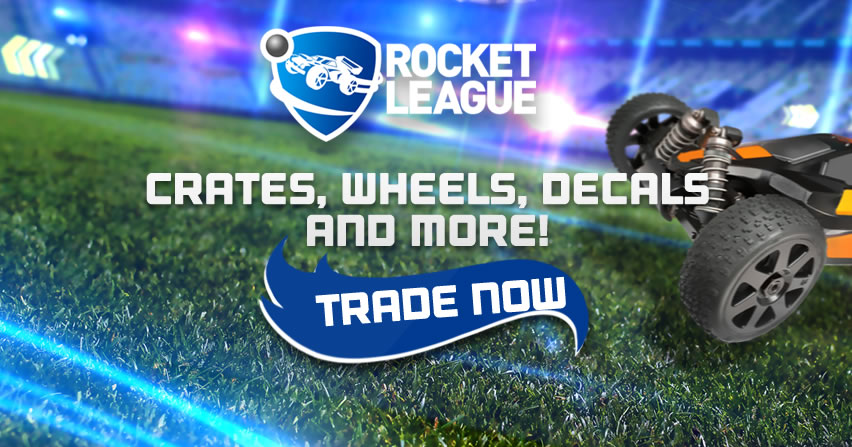 We would like to invite you to join our newly opened



Rocket League Player-to-Player Marketplace
Buy, Sell and Trade Your RL Crates, Keys, Items, Decals and More!
Odealo has active Rocket League markets on all platforms:
★
STEAM (PC)
★
XBOX
★
PS4
>> view all offers <<
The most popular RL Items on Odealo are:
★ Buy RL Crates [HOT PRODUCT]
★ Buy RL Wheels [HOT PRODUCT]
★ Rocket League Decals [HOT PRODUCT]
★ Keys
★ Bodies
★ Toppers
>> view all offers <<
For all reputable Sythe users we offer:

★ Higher deposit/transaction limits
★ Lower requirements for becoming a Super Seller
★ We will accept and discuss any site feedback or suggestions with you directly


What is Odealo?
Odealo is an innovative new Player-to-Player Marketplace which was launched in 2017. It provides a safe environment for buyers and sellers of goods and services in online games to meet and trade. With user-friendly offer management and transaction processing tools, and seamless implementation of advanced security measures, Odealo takes player-to-player trading to a whole new level. Online trading for gamers has never been so simple, secure and enjoyable
How does it work?
Odealo provides trading tools and a meeting place for users all over the world to buy and sell their goods and services related to online games. Odealo does not participate in the delivery of the goods, nor is the site directly involved with transactions between users. Odealo serves as the intermediary which manages the financial aspects, and maintains the security, of all trades. Odealo provides each user with an individual, personalized wallet which is used to store Credits, which are the medium of exchange on Odealo. Users obtain Credits through deposits and the sale of goods. Credits have a 1:1 exchange rate with US dollars (1 Credit = 1 USD). Users can withdraw their Credits through several payment gateways including Paypal and Skrill
Why Buy on Odealo?
Odealo transaction system is based on the Escrow system. It means that sellers do not receive the funds untill you(buyer) confirms their delivery. With our authorization system, feedback and transaction ratings, account levels and public profiles you are also fully aware who you are dealing with. We also provide:

★ Guaranteed delivery or your money back
★ No hidden fees.
Price is set at $5.00 for a product? You pay exactly $5.00 - no extra fees for using Paypal or other payment gateways
★ Wide variety of currency and item offers from reputable sellers
★ The best communication system out of all P2P marketplaces -
feel free to message any seller at any time. Negotiate discounts, bonuses or simply check their availability
★ The lowest per transaction fee
- making Odealo the right place to cross-game or cross-realm trading.
★ Free account registration

Why Sell on Odealo?
We have been continuously improving the websiste features and increasing its' traffic since the launch of our project in March 2017. Currently we can say proudly that can provide:

★ Steadily increasing traffic and userbase
. Hundreds of unique daily users who can become your potential customers
Source: Odealo.com Traffic, Demographics and Competitors - Alexa
Source: https://www.similarweb.com/website/odealo.com
★ High volume of new users
we are putting a lot of effort in the SEO of our website. We have successfully reached the top 5 google search results for other games, including Path of Exile, Diablo 3 and EVE Online - now we plan to do exactly the same for Rocket League
★ Very low fees -
we are also the only company that does not charge extra fees from buyers - making them pay exactly what you ask for your products
★ The lowest per transaction fee
and just one cumulative withdrawal fee, which is charged only after you reqeust the cashout
★ Free account registration and offer posting
★ Intiuitive and easily accessible offer promotion syste
★ The best communication system out of all P2P marketplaces
- feel free to message your customers with discount offers or other special deals
If you would like to join, simply visit the
Odealo.com
website. For more information you can also contact us directly through email or
Skype